First edition
Nation Dates was first published 6 September 2011, to commemorate the passing of the British Nationality and New Zealand Citizenship Act 1948.
Authors: Wendy McGuinness and Miriam White
Editor: Susan Brierley
Cover Designer: Kelly Gordon
About the cover design: The layout of the letters on the cover parallels the layout of an eye-chart referencing sight or, more specifically in this case, the idea of using hindsight to develop better insight and foresight. The colour orange was selected for its alignment with the general colour of electoral enrolments, without affiliations to any specific New Zealand political party. This was important for us as a non-partisan think tank.
Acknowledgements
Many people have provided invaluable assistance in the preparation of this book – too many to name here. We are grateful to all these people, and in particular Dame Claudia Orange, Dr Felicity Barnes, Professor Sir Mason Durie, and Professor Philip Joseph. We have found the Ministry for Culture and Heritage and its NZHistory and Te Ara websites invaluable resources in researching this book. Wherever possible we have used these sources as a way to show support for the work of the Ministry who have kept such an exemplary record of our history. Other resources deserving special mention include Paul Moon's New Zealand Birth Certificates and Professor M.P.K. Sorrenson's History of Maori Representation in Parliament. We would also like to thank Liz Allan, Mahina-a-rangi Baker, Lisa Bazalo, Maria English, Mia Gaudin, Perrine Gilkison, Kelly Gordon, Willow Henderson, Louise Grace-Pickering, Jessica Prendergast, Lara Rapson, Rory Sarten, Stephanie Versteeg, Hayley Vujcich, Diane White, Grace White, Jamie Winiata, editor Susan Brierley, and participants of the StrategyNZ: Mapping our Future workshop, held in March 2011.
References to the first edition
Please download the following pdf here. 
Cover of Nation Dates First edition
Second edition
The second edition of Nation Dates was published in 2012.
Authors: Wendy McGuinness and Miriam White
Editor: Grace White
Cover Designer: Angus McBryde
About the cover design: The cover was designed to reflect a thinking cap. It aims to illustrate the range of historical threads that together make up our understanding of key dates in New Zealand's history.
Acknowledgements
This second edition has been further improved with feedback from the following people: Paul Corliss, John Crawford, Roger Dennis, Leo Donnelly, Norman Gemmell, Paul Goldsmith, Murray Gribben, Glenn Hardingham, Janine Haywood, Shaun Killerby, Murray Lynch, Keith Quinn and Phil Whittington, and others who contributed through our www.nationdates.org website. Susan Brierley, our editor, has been essential to the book's development and final production: thank you again for your patience and commitment.
References to the second edition
Comprehensive table of all references with links can be found here.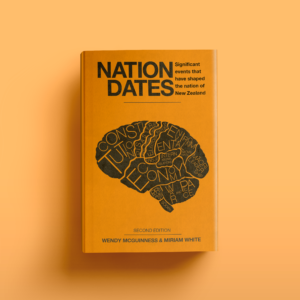 Cover of Nation Dates Second edition
About the Editor
Grace White worked at the Institute in 2012 as a research analyst.